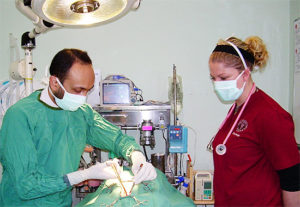 Your "Medicare" for your four legged companion
Health services for both ourselves and our much loved companion pets is more complex than ever before. There are now many more diagnostic and treatment options available. The cost of such services has increased in both human medical and veterinary fields.
The great cost of human health service provision is largely cushioned by the broad population based Medicare levy. Superficially, it may appear that the cost of providing human health care is cheaper than veterinary care, but this is simply untrue, as very few of us will ever realise the real cost of experiencing surgery or paying for medications due to our nationally structured pharmaceutical benefit scheme and the Medicare rebate system. These systems cushion and obliterate the real cost of such services to the individual.
Unfortunately, a Medicare type system is not in place for our pets, so the real cost of providing treatment and care must be borne by the owner. This is where pet insurance becomes important. It is certainly worthwhile considering pet insurance. The majority of us have house and contents insurance and car insurance.

It is interesting to note that one in three pets will require unexpected veterinary treatment every year.
We are more likely to make a claim on our pet insurance, than we are on house or car insurance. The following statistics on insurance are interesting:
If you would like to know more about pet insurance please feel free to pick up brochures which are readily available from reception.